China Cotton Index (CCI) is expected to move down in the next few months as Chinese monetary and financial regulatory agencies begin supporting various departments to control the prices of cotton, while farmers are looking to sell their cotton due to bad weather and poor financial conditions.
Additionally, government management agencies are working to bring the rising coal prices under control. The energy and electricity issues of China are expected to be resolved in the upcoming period which, in turn, is likely to help reduce the prices of cotton as processing costs will go down.
The cotton demand may also reduce in the coming months, which will further support the expected drop in cotton prices.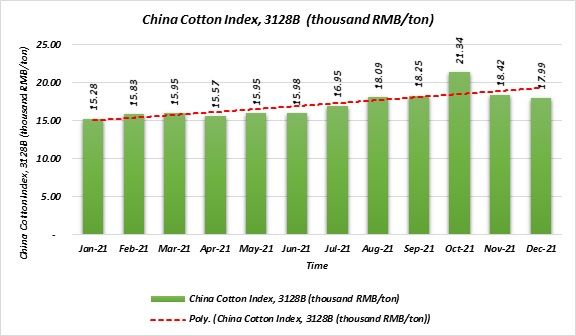 The monthly average of CCI was 15,690 RMB per metric ton in Q1 2021 and 15,830 RMB per metric ton in Q2 2021. In Q3, the monthly average surged by 12.19 per cent to 17,760 RMB per metric ton, according to Fibre2Fashion's market analysis tool TexPro.
In Q4 2021, the CCI may drop significantly as the monthly average is expected to decline by 15.70 per cent to 17,990 RMB per metric ton in December 2021 from 21,340 RMB per metric ton in October 2021.